Old Britts New Commando
Last Updated 07/10/13
We started an article "Build Your Own Commando, Do a Frame up Restoration Or Have Old Britts Build You a New Commando" years ago with good intentions, but life and an expanding business got in the way. Our last update for this article was 01/24/05. We will not be finishing the article, but will leave it on our site since it does contain a lot of good information. To view this article see Build Your Own Commando. Our computer will still update the pricing in this article, but be advised that we have not proofed or looked through this article in a long time.
We did complete the new bike that we were building. For information on this first new Commando from Old Britts click on the picture.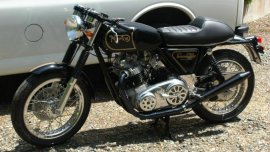 We purchased a lot of basket cases when we started Old Britts and have sold or parted out most of the basket cases. We have some used parts left and they are listed on our site under alternative parts when you look up the new part. What we do have are four clear titles and we are planning to build complete new bikes around the titles. We will be starting the next bike build soon. It will not be a short stroke like our first bike since we have a set of new crank cases, new cylinder and new head for a 750cc. We purchased these cases, cylinder and head many years ago when they were still available from Andover Norton. We will use a new frame from Andover Norton and a new crank from Steve Maney for this next new Commando.
We will not pre-sell this next bike, but put it up for sale when it is completed. We will not keep a waiting list for any new bikes. As we build this bike we will keep track of all the parts and labor that goes into building the bike. Our idea now is to sell the bike at the cost of parts and labor. Time will tell if that is feasable. We still have to figure out how we are going to display the build on our site, but we will display the build as it progresses.
We hope to have the frame and crank in our shop by the end of the summer and start the build. As they say "stay tuned and check back."

---
Return to Old Britts home page
---
This page was written and designed by F. H. Eaton & Associates if you have any questions or comments please contact us at info@fheaton.com