Old Britts is located in Enumclaw, Washington, USA, which is about an hour southeast of Seattle. We are a mail order business providing a large selection of genuine Norton factory parts, paraphernalia, books, manuals and accessories. We also manufacture some after market parts from cables and brake lines to a pre-MK3 electric starter conversions. We do upgrades like disc rotor grinding and lightening, sealed bearing conversions, 520 O-ring chain conversions and more. We do a limited amount of engine work and restorations for customers who are not in a hurry.
Business Hours
We will take and process orders Monday through Thursday, 8am to 4pm Pacific Time. Orders received Friday, Saturday and Sunday will be processed on Monday.
With our latest forced move, we are no longer located in a business park with adequate customer parking, therefore we have to eliminate walk-in trade unless you arrange your visit in advance.
You can contact us at:

Preferred Mailing Address:
Old Britts
P.O. Box 472
Enumclaw, WA 98022 USA

Parcel Delivery Address:
718 Griffin Ave. #8
Enumclaw, WA 98022

Phone: (253) 735-2375
Fax: (253) 333-8026

If we're not in when you call, leave a message and we'll call or e-mail back.
Old Britts was founded in 1992 by Fred Eaton to restore and sell vintage British motorcycles in order to get more vintage bikes on the road. Fred obtained some dealerships in order to buy parts at dealer pricing; but after restoring a couple of BSAs and a Norton, it became apparent that the cost of restoration was more than we could get for the bike. Not discouraged, we started to sell parts to other restorers at competitive prices so other people would restore their bikes. After a few years, Old Britts evolved into a small mail order business and as business grew we decided to specialize in Nortons only.
As Old Britts changes the products and services we provide, we will make note of them on our main menu.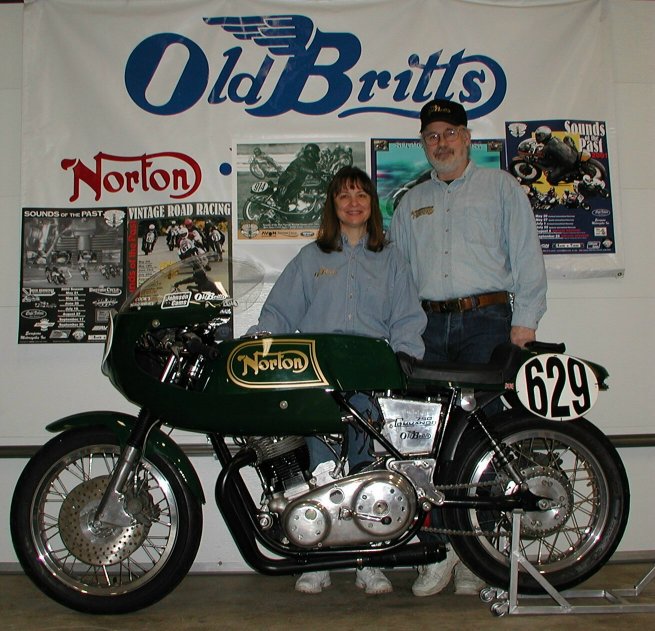 Ella & Fred Eaton
---
Return to Old Britts home page
---
This page was written and designed by F. H. Eaton & Associates if you have any questions or comments please contact us at info@fheaton.com