Crank Case Puller, Pre-MK3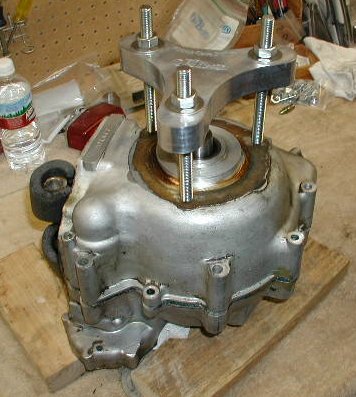 I had made a crank case puller for pre-MK3 motors some years back that bolted to the crank case with one center screw to pressed against the crank shaft. This old puller worked, but not a well as the
MK3 puller
I made, so I made a similar puller for pre-MK3 cases. The advantage of this style puller is with the aluminum top piece, you will not bung up the end of the crank and you can apply pressure to part of the case, if needed, by tightening up one bar more than the other two. This puller is a bit more difficult to produce than the MK3 puller, but could be easily fabricated if a lathe is available.
I cut three 6" pieces from some 12 x 1.75 metric threaded, but you could use 1/2" threaded rod. I turned down 1/2" of the end and threaded it to 1/4 x 20.
I mill up a 1" thick, 6" x 7" piece of 6061 T6 aluminum to form the top piece. You could use a steel plate thick enough to not bend when you apply the pressure required to split the cases. The nice thing about aluminum is that it acts like soft jaws on a vise and will not bung up the end of the crank shaft.
The three holes on the crank case are spaced 120º apart and 2.5" from the crank shaft center. I milled my 3 slots 1/2" wide and 1" long, but three over sized 1/2" holes on your plate would work. I also milled a circular indent in the center .1" deep with a diameter of .63" to steady the bar over the crank shaft that sticks out the left case. You probably don't need the center hole unless you get a real stubborn case.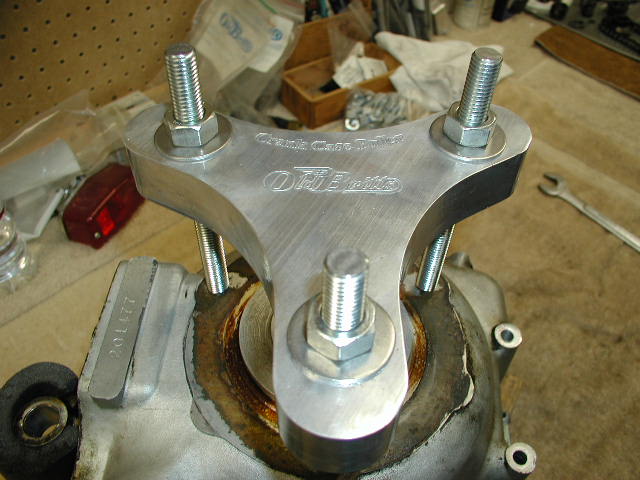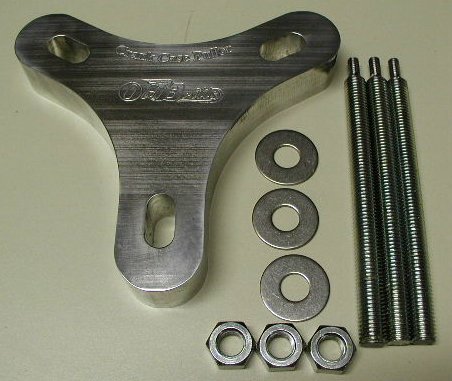 This is a picture of all the parts that make up this puller.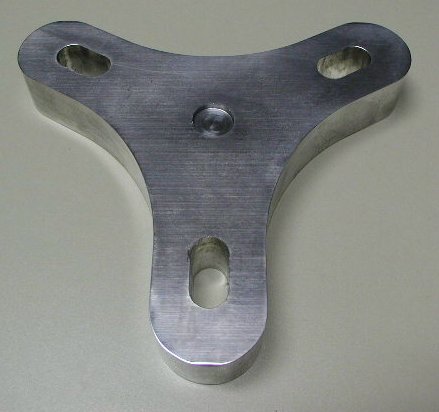 This is a picture of back side of the puller showing the center recess.

The current price for the puller (part # OB-70602) is $160.00.
The rental price for the puller (part # OB-70602/R) is $70.00, with a $90 deposit.
Prices are current as of 12/14/17.

---
Return to Old Britts home page ….. Our Products, Ordering
Norton Parts …..Tools
---
This page was written and designed by F. H. Eaton & Associates if you have any questions or comments please contact us at info@fheaton.com