Les's Norton P11 Road Racer
by Les Cook

The high point of this winter has been winning a blue ribbon in the Vintage Competition Class, Cycle World Readers Collection, at The Seattle International Motorcycle Show for my Norton P11 Roadracer. There were many fine vintage bikes on display.
The 1996 race season will be fourth. It looks like we may have more vintage road racers.
Fred Eaton, Old Britts, has put together a six race series called "Sounds of the Past." Quite a few new people have signed up. Many thanks to Fred Eaton for the effort and time he has put into this series. Let's get those old Nortons on the track!
Last season was a little rough for me. In June I went down at SIR in the bus stop and broke a bone in my right hand and left collar bone. It healed fast and I only missed two races. Last race of the season I busted a gear in the gear box and both shafts were bent.
I pulled the gear box out of the bike and tore it down. I went through my spares for gears and shafts and took them to Ross at Pokes Cycle for setup and reassembly.
The BSA conical rear hub I used has a real lousy rear brake , so I have fitted a Norton backing plate and shoes in the BSA hub. Hopefully this will work better.
Keith Johnson drilled my front Commando disc. It lightened it by 3/4 pound.
I'm going to have Ross check the engine over, but other than that, I'm ready to race.
Now about the bike:
Rebalanced crank to 80%, super blends - NOS Commando rods polished by myself - NOS Commando push rods - Lightened and polished rockers by myself - Megacycle 560-NSS cam. - Racing valves (Precision Machine) and springs (Megacycle kit), titanium retainers - GPM standard pistons - NOS AJS swept back pipes, Conti mufflers - SS overhead oil lines.
Head steady built by myself - Engine plates 3/16 MS built by myself - Aircraft engine (mount) bolts and Nylock nuts - Amal MK11 carbs with 260 jets - Upgraded Matchless 4-speed gear box, Matchless cast aluminum primary cases - Steel P11 gas tank - NOS steel P11 oil tank - 22T engine sprocket, 21 gear box, 46 rear - 3-spring AMC clutch, all NOS - Kick starter, reversed gear lever - Matchless G85 scrambler frame and swing arm - Koni shocks, Girling NOS springs - Super Venom tires, 19" front, 18" rear - Torrington needle bearing in swing arm - Cup and cone bearings in steering head - Steering damper - Akront rims, SS spokes - Commando forks, single RH disc brake - RGM for yokes, top cast, bottom machined billet - All Magura controls and master cylinder - SS hydraulic line - Rear sets from CRA modified.
Some sort of Triumph after-market fiberglass seat base, cut down by myself and upholstered by Johns Auto Toggery, Mt. Vernon, WA.
All excellent paint by Clyde Moslander, Monroe, WA.
BSA conical rear hub, polished by myself. Used BSA rear hub so I could change rear sprockets.
Engine and gear box was built by Ross Poitras of Pokes Cycle Co., Seattle, WA.

I'm in the assembly process of putting together a Norton Featherbed Road Racer. It won't be ready for the 1996 season, but it will be ready for the Seattle International Motorcycle Show next year. This is a list of stuff I have for the Featherbed:

1964 Featherbed slimline frame - Norton Combat cases and crank - NOS Commando barrel - Commando head - Aluminum center mount oil tank - Aluminum 3-gallon short circuit lyta gas tank - BSA conical rear hub - 4-speed close ratio gears - Aluminum dampers and rods - Seely top fork yoke - Atlas bottom fork yoke - Competition swing arm (on order from Mick Hemmings) - Short Roadholder fork tubes (on order from Pokes) - Quaife heavy duty gear box shell (on order from Clubmans) - Belt drive and clutch kit (on order from Mick Hemmings) - Manx type seat - Atlas steel engine plates
Les Cook
5314 108th Ave Ct. E.
Puyallup, WA 98372
(206) 840-3145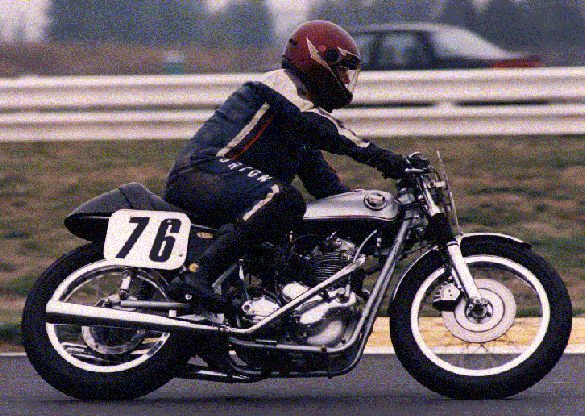 ---
Return to Old Britts home page ……. Bike Articles
---
This page was written and designed by F. H. Eaton & Associates if you have any questions or comments please contact us at oldbrits@oldbritts.com