Crank Case Bearing Removal
Summary:
This article covers a simple method of removing the super blend crank bearing from the crank cases without stinking up the house and getting your wife upset by using the oven.

Technique: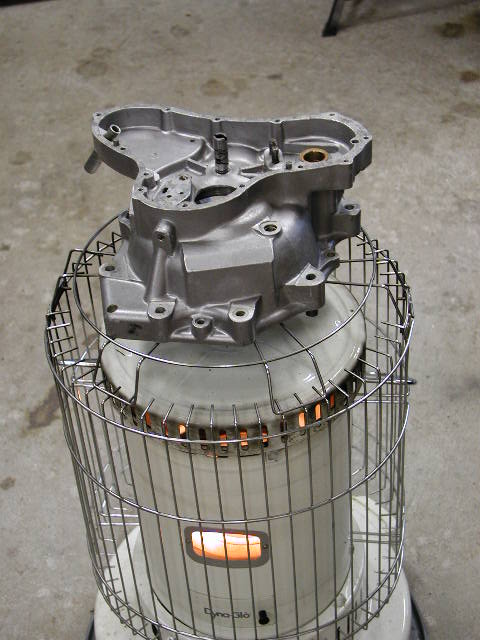 If you have a kerosene space heater as pictured, this makes a simple way of removing the crank bearings. If not you may want to think about acquiring one since they are handy, not that expensive and readily available at most large hardware stores. I have been using this type of heater for years to bring my shop up to a pleasant working temperature in the winter. My shop is heated with electric heaters which I keep at around 50ºF to save money. When I go out to work, I turn on my kerosene heater to quickly bring the shop up to temp.
I thoroughly clean the case halves prior to placing one on the heater and place a steel plate on top to catch the bearing when it drops out as shown in the next picture. I place the case half with the bearing facing down towards the steel plate and go off to do some other work. Shortly, some time later I hear a plunk when the bearing drops out of the case and lands on the steel plate. I put on my welding gloves and remove the case and bearing.
I use this technique to install the bearing also, but it is harder to know when the case is done since the bearing will not normally drop back into the bore since it gets tilted slightly and has to be gently tapped into place. If you shim the crank behind the timing side bearing (between the bearing and the case) like I do, this technique works like a champ. I dry fit the crank in the case, determine the amount of shim required, place the timing side on the heater, wait until the bearing drops out, flip the case over, insert the shim and drop back in the bearing. Much easier than using the shim that goes between the bearing inner race and the crank cheek.
You can use this technique in the summer, you just don't get the added benefit of heating your shop.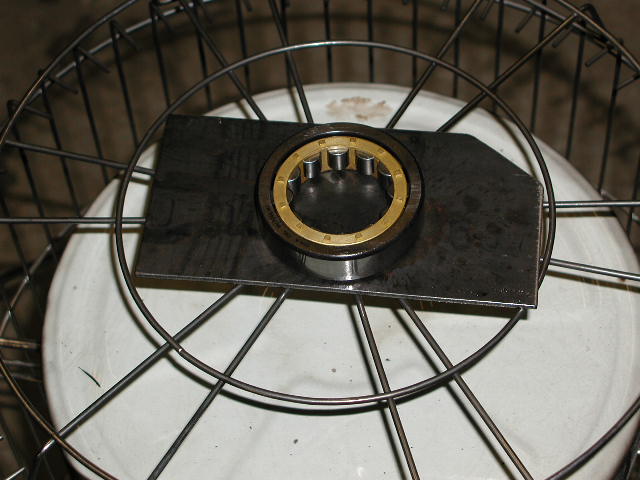 ---
Return to Old Britts home page ….. Technical Articles
---
This page was written and designed by F. H. Eaton & Associates if you have any questions or comments please contact us at infon@fheaton.com