Amal Concentric (MKI) Carburetor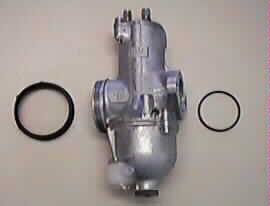 The following pictures display the Amal Concentric carburetor and what is included with this carburetor.

This carburetor comes with a plastic banjo and filter, manifold "O" Ring and plastic velocity stack. When you order your carburetor, we will put whatever jetting, needle and air valve that you desire.
The Commando Carburetors that we stock.
Prices current as of 12/14/17.
Part No.
Description
Needle
Needle Jet
Spray Tube
Throttle Valve
Main jet
Carburetor Price
06-2359
30mm for 750cc, Left hand
2 Indent
106
622/074
#3
200
$264.76
06-2360
30mm for 750cc, Right hand
2 Indent
106
622/074
#3
200
$272.28
932/301
32mm for 750cc Combat, Left hand
2 Indent
106
622/074
#3
220
DROPPED
932/300
32mm for 750cc Combat, Right hand
2 Indent
106
622/074
#3
220
DROPPED
06-5749
32mm for 850cc, Left hand
4 Indent
106
928/107
#3.5
260
DROPPED
06-5750
32mm for 850cc, Right hand
4 Indent
106
928/107
#3.5
260
DROPPED
---
Return to Old Britts home page ….. Our Products, Ordering
Carburetors….Amal Concentric
---
This page was written and designed by F. H. Eaton & Associates if you have any questions or comments please contact us at eaton@oldbritts.com