Mikuni Single Carb Conversion Kit, 34mm, Commando
The current price for this conversion kit (part # 40-400100) is $340.00, as of 12/14/17.
This kit includes one 34mm carburetor, one manifold and mounting flange, fasteners and jetting kit. The K&N filter (40-400201), pictured below, is not included with this kit and must be purchased separately.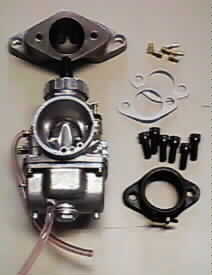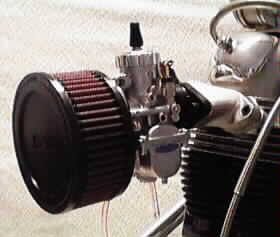 This set of pictures shows this kit assembled on a Commando engine with the K&N filter (40-400201) mounted.
---
Return to Old Britts home page ….. Our Products, Ordering
Norton Parts…. Carburetor, Mikuni
---
This page was written and designed by F. H. Eaton & Associates if you have any questions or comments please contact us at infon@fheaton.com