Boyer Electronic Ignition Kit
The current price for this kit (part # 17-33101) is $0.00, as of 12/14/17.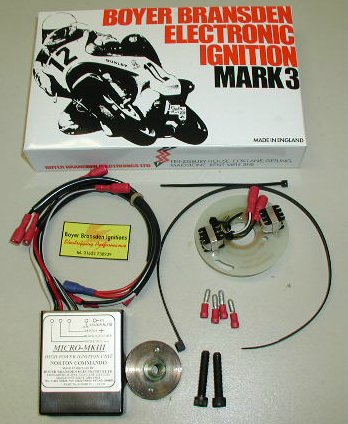 The Boyer electronic ignition kit for Commandos comes with everything shown in this picture plus written instructions. Everything you need to install this kit is included. You will note two allen bolts to secure the rotor, one for older cam threads (1/4 x 28) and one for the newer cam threads (1/4 x 26).
You can read the installation instructions on our site at Instructions and find trouble shooting information at Testing Info.
When this unit is installed, you may remove the two condensors and the ballast resister. Some people have found that they need to replace thier old coils due to the increased spark produced by this unit. The symptom you will experience with old coils will be similar to out-of-tune carburators, especially at higher RPMs. We stock replacement 6 volt coils (part # 23-607131, $59.40 each) that look like the original coils, but designed for the newer ignition systems. If you are not concerned with keeping the stock look of your Commando, we stock the perferred single, 12 volt, dual lead 5 ohm Dyna coil (part # 51-100002, $86.99) which will produce a better spark than the two 6 volt coils.
We make a mounting bracket (part # 17-33101/MK, $0.00) That helps in mounting the Boyer black box.
---
Return to Old Britts home page ….. Our Products, Ordering
Norton Parts…. Ignition, Mechanical & Electronic
---
This page was written and designed by F. H. Eaton & Associates if you have any questions or comments please contact us at infon@fheaton.com