Rear Master Cylinder by
AP Lockheed, CP2594-4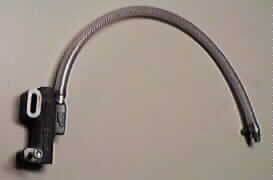 This set of pictures show the AP Lockheed Rear Master Cylinder that can be used to replace the Norton MK3 rear master cylinder. This cylinder will not bolt up in place of the original Norton master cylinder, but can be made to work. This cylinder uses the tube as a remote reservoir.
This picture shows this rear master cylinder mounted on a Commando using the MK3 brake lever and linkage to operate the cylinder.
---
Return to Old Britts home page ….. Our Products, Ordering
Norton Parts …..Wheels, Brakes…..Brakes
---
This page was written and designed by F. H. Eaton & Associates if you have any questions or comments please contact us at eaton@oldbritts.com