Norton, Seat, Dual Racing, Roadster/Interstate
The current price for the dual racing seat (part # 13-500002 Roadster or 13-500003 Intrstate) is $295.00, as of 12/14/17.
This seat is made in England, has a metal seat pan and has the Gold or Silver or no Norton logo painted on the rear of the seat. This seat comes in the roadster model (13-500002) and the Interstate model (13-500003). This seat will allow room for a passenger, for short distances or one that you are very friendly with, and allow the rider much more room than most racing seats when riding one-up.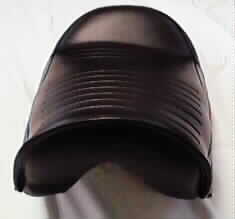 ---
Return to Old Britts home page ….. Our Products, Ordering
Norton Parts …..Frame…..Seats
Paraphernalia …..Decals
---
This page was written and designed by F. H. Eaton & Associates if you have any questions or comments please contact us at info@fheaton.com