NORTON, Mounting Head, Oil Filter
The current price for this oil filter mounting head (part # 06-3139) is $47.00 As of 12/14/17.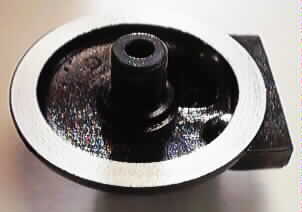 These pictures show the mounting head. This is normally mounted to the rear of the rear engine mount, but could be mounted in any other convenient place. This mounting head takes the Norton Oil Filter
(06-3371)
.
---
Return to Old Britts home page ….. Our Products, Ordering
Norton Parts …..Frame…..Oil System
---
This page was written and designed by F. H. Eaton & Associates if you have any questions or comments please contact us at info@fheaton.com